About Caluda's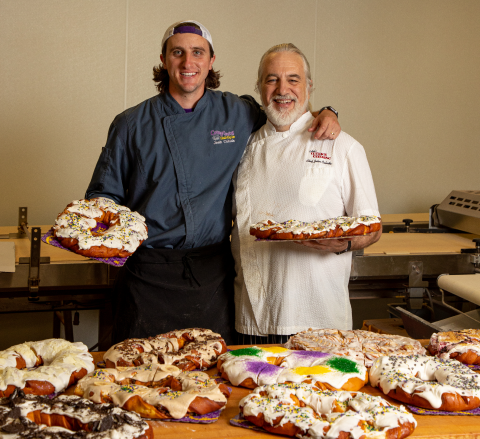 Caluda's King Cake has been proudly serving fresh king cakes to the New Orleans Metro Area for more than 35 years. Owned by father-son duo John and Josh Caluda, we offer a variety of both traditional and non-traditional flavors out of our 10,000 sq ft. state-of-the-art bakery in Harahan, LA.
With more than three decades in the industry, we know king cakes and are proud to be a NOLA tradition. Offering our customers moist, delicious king cakes and excellent service, Caluda's is the go-to king cake bakery not only during the festival season, but year-round.
Chef John Caluda
Chef John is a graduate of the Culinary Institute of America and former pastry chef of the Royal Orleans Hotel. He has been baking king cakes since 1990, starting at his old restuarant, The Coffee Cottage, and has developed the business into one of the largest king cake bakeries in town.
Also winning many contests and awards for best king cake, freshest king cake, best filled and many more. He oversees the whole crew and the catering business, and has been a Vendor at the New Orleans Jazz and Heritage Festival since 1997 serving Crawfish Strudel and White Chocolate Bread Pudding. He also appeared on the PBS Series Great Chef's Great Cities and Great Chef's the New Guard.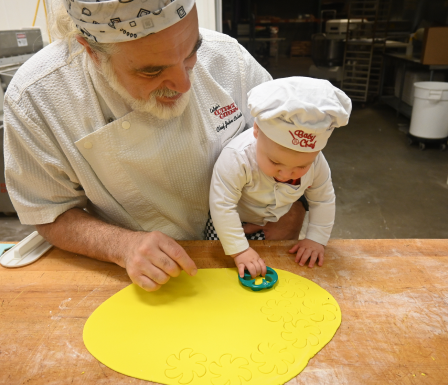 Chef Josh Caluda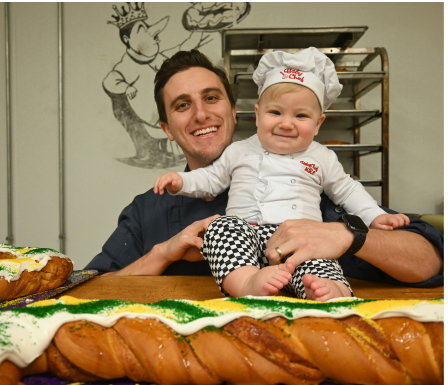 Chef Josh has been learning all the ins and outs of the bakery business directly from his dad, Chef John, for many years now. He works directly with crew, and oversees the daily prodcution making sure our king cakes are made to perfection that you all know and love.
He graduated from LSU with a degree in engineering, but found his calling working in the family business instead.
He now calls the bakery home, and takes great pride in what he does. He hopes to keep the family bakery alive and pass it down to the third generation one day.
STAY UP TO DATE
Caluda's Blog & News